Tonight's marathon is all about witnessing different spy worlds coming together, that all share the common ground of being fun-spirited and over the top in how they execute their storylines with appealing ensemble casts such as the ones presented in both
Red, Red 2,
and
Kingsman: The Secret Service.
These movies are highly entertaining and give the audience large doses of fun with their distinct styles of portraying the spy aspect of their stories with healthy doses of over the top action and clever comedy boasted by a stellar cast. The themes of the stories all range from old Spy agents coming out of retirement with their old crew to find out whose trying to kill them, or young people groomed to become future spies by a spy organization, or unlikely heroes becoming spies to finish off the work another previous Spy started before their unfortunate demise. Regardless of the themes of the movies, they all have similar styles of humor and excitement that make them blend exceptionally well together while keeping the Spy aspect of their stories front and center. This is a fun-filled marathon that begs one to have a bucket of popcorn ready for an enjoyable experience. For tonight's kickass theme of movies, we have the following films on the menu:
Kingsman: The Secret Service 2015, Avengers 1998, Red 2010, Spy 2015, and Red 2 2013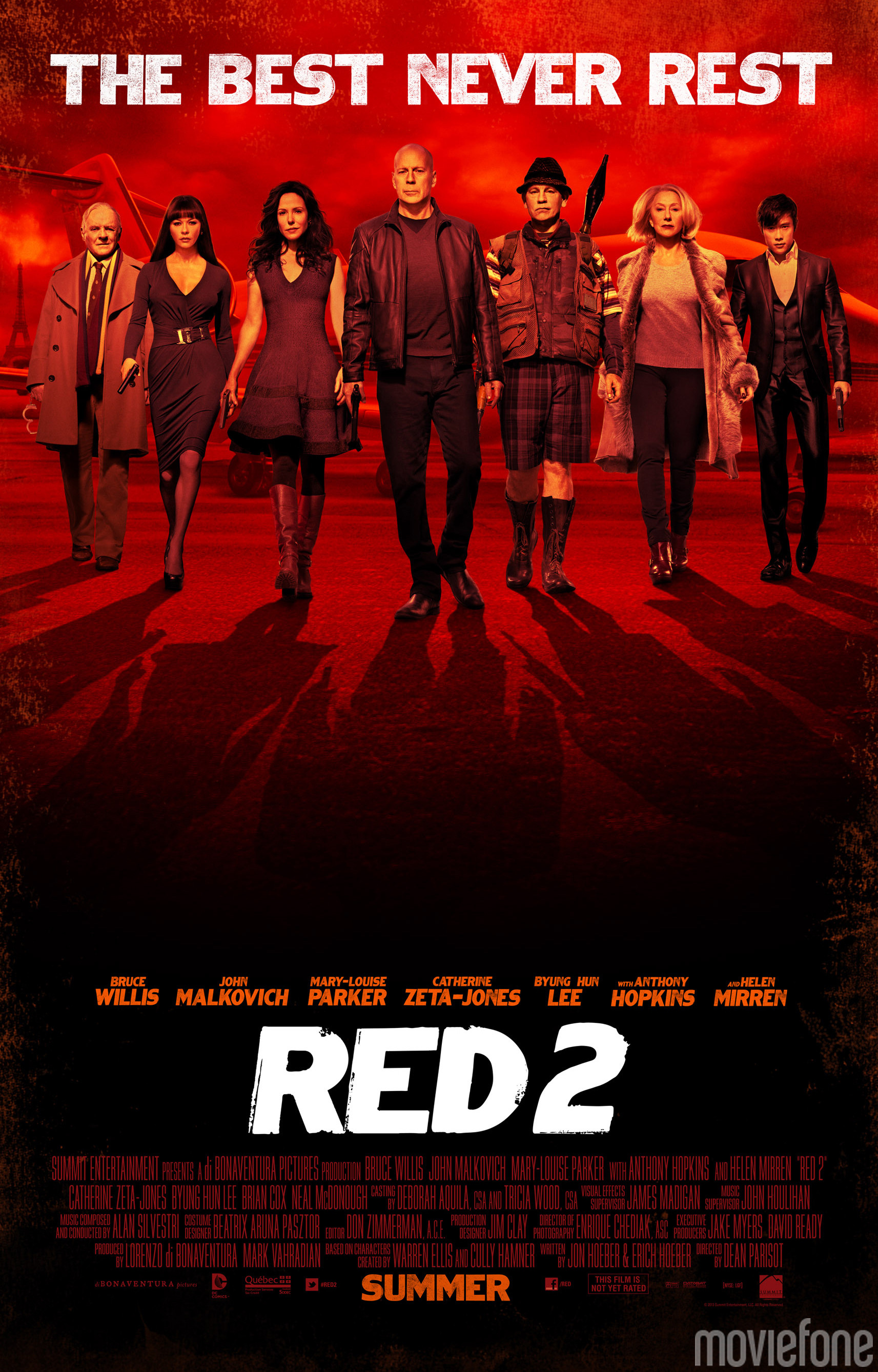 Now this is a slick set up of movies that flow together beautifully in regards to carrying out the concept of Spy worlds and organizations coming in many different forms, which essentially says that anyone can be a Spy whether professional or not. The movies also say that it can be both a dangerous profession as well as a fun one that provides a lot of laughs for the audience, as the characters struggle to make sense of the situations their in. Matthew Vaughn's 2015 smash hit
Kingsman: The Secret Service,
is a perfect example of the type of fun that's absent from latter day James Bond films as Spy movies in general have become more serious oriented and darker in style.
Kingsman
is all fun and heart with Vaughn demonstrating that he can juggle an ensemble cast, giving the characters and plot plenty of rich development while making the action over the top and suspenseful. The story is essentially
A New Hope
for the Spy genre with the Spy organization recruiting an unrefined street kid to participate in the agency's ultra competitive training program, while a global threat emerges from a global tech genius.
Kingsman
is the film that makes Spy movies look cool and feel like a lot of fun again as it boasts a stellar cast among the likes of Colin Firth, Samuel L. Jackson, Taron Egerton, Mark Strong, Michael Caine, and Mark Hamill. Avengers 1998 with Ralph Fiennes and Uma Thurman is a criminally misunderstood action, Spy adventure that stands as being a fun movie if you weren't someone who grew up with the original 1960's television show. If one views it as a fun 90's romp with a campy nature yet entertaining performances from Uma Thurman, Ralph Fiennes, and Sean Connery, then it serves as being an entertaining film that's quite possibly fallen into the category of being so bad it's good.
Avengers
centers around a male and female British agents teaming up to stop Sean Connery's character Sir August De Wynter from destroying the world through the use of a weather-changing machine. For fans of the original show,
Avengers
is a massive letdown as it's generally considered one of the worst mainstream Hollywood films ever made, but if one views it as it's own form of cheesy entertainment, the film works on those grounds, especially if one see's it at a young age as it builds nostalgia. Red with Bruce Willis, Morgan Freeman, John Malkovich, Mary Louise Parker, Helen Mirren, and Karl Urban centers around a former black-ops agent being forced out of retirement when his peaceful life is threatened, forcing him to put his old team back together in a last effort to survive and uncover his enemies. Nominated for a Golden Globe award for Best Comedy or Musical,
Red
reverts back to having an ensemble cast carry it's story much like
Kingsman
while adding a great deal of humor and over the top action scenarios to the story. Much like
Kingsman, Red
carries with it wit and style that distinguishes both movies from most big budget action films in it's genres, ultimately making it an extremely fun but not a killer ride in the Spy genre. The films cast and clever writing and directing make it worth watching, as well as being a great matchup with Vaughn's
Kingsman. Ghostbusters 2016
director Paul Feig's 2015 action, comedy hit
Spy
centers around a desk-bound CIA analyst volunteering to go undercover to infiltrate the world of a deadly arms dealer in an effort to prevent a diabolical global disaster. Nominated for two Golden Globes including Best Comedy Or Musical,
Spy
follows the same style of wit and humor that made both
Kingsman
and
Red
such hits with audiences as it provides unrealistic action with solid laughs, especially from Jason Statham and Jude Law in memorable supporting roles. For fans of Melissa McCarthy, the film shows her and director Paul Feig to be quite the Hollywood match, as the two ultimately bring out the best in each other while making the film a fun ride.
Spy
is the perfect film to watch with
Kingsman
and
Red
because of it's Bond spoof appeal while creating it's own fun story.
Red 2
which reunited Bruce Willis, Helen Mirren, Mary Louise Parker, and John Malkovich while substituting Morgan Freeman and Karl Urban for Anthony Hopkins and Catherine Zeta Jones, centers around retired C.I.A agent Frank Moses, played by Bruce Willis once again reuniting his team of eccentric elite operatives in a global quest to track down a missing portable nuclear device. While
Red 2
isn't as fresh and original as the first film, it still shines due to it's strong and talented cast bringing charm and wit to the characters, with new additions such as Catherine Zeta Jones and Anthony Hopkins fitting in just well with the rest of the ensemble. With all of the films combined in tonight's marathon, these movies all bring wit and clever humor to the Spy genre, while creating storylines that leave room for lots of popcorn entertainment, making them unique from typical big budget action blockbusters and comedies.
Kingsman: The Secret Service
The first movie of the marathon is the 2015 box office hit from
X-Men: First Class
director Matthew Vaughn titled
Kingsman: The Secret Service
. Boasting a kickass ensemble cast among the likes of Colin Firth, Taron Edgerton, Samuel L. Jackson, Mark Hamill, Mark Strong, and Michael Caine, the story centers around the training of a young street kid turned secret agent by an organization bent on thwarting a global threat from an insane tech genius.
Kingsman: The Secret Service
looks cool, is fast-paced, witty, funny, action-packed, beautifully shot, and essentially carries all the fun that's missing from the present day James Bond films. Vaughn adds style, fun, and brains to the story making it a pleasant surprise for a Spy film as it knows not to take itself too seriously while being strategic in delivering it's witty humor. Vaughn brings his strengths at balancing out multiple characters from
First Cass
over to this film, allowing every character a chance to shine and have moments that make them steal the show.
Kingsman
is an exceptional Spy thriller as it essentially crowns itself as being the James Bond film that audiences have been lusting for, presenting everything that audiences could possibly want in a spy movie while crafting it's own story with edgy directing. The film feels like it pays great homage to the classic spy movies of the 1960's due to it's largely entertaining and slick plot that includes Samuel L. Jackson giving a hilarious performance as the films antagonist. Terrific art-set decoration along with brilliant costume design and insanely stylized violence make
Kingsman
not just the perfect first movie of the marathon as it sets the tone for the rest of the Spy films to follow, but also that it makes itself the
Kick-Ass
version of Spy thrillers.
Avengers 1998
The second movie of the marathon is the 1998 criminally misunderstood and largely lambasted Spy action film titled
Avengers
starring
The English Patient's
Ralph Fiennes,
Batman and Robins
Uma Thurman, and James Bonds Sean Connery. The story centers around two British agents teaming up to stop Sean Connery's character from destroying the world with a weather-changing machine. Despite much of the criticism that
Avengers
received since it's release, largely due to misrepresenting the show, it provides the over the top action and slick humor of
Kingsman
despite the writing being less clever and intelligent. If one takes
Avengers
as being a simple and fun movie then it works without disrespecting the legacy of it's show. If
Avengers
is a bad movie, then it goes down as being one that's so bad it's good as Fiennes, Thurman, and Connery make the best of the material given to them. For a film that's largely viewed as a failure in audiences eyes, it's an intriguing one with solid actors backing it with cool sets, costume designs, and striking visual designs. The films greatest enemy is it's writing as it's easily the weakest of the films present, but it's production values and appealing cast make it fun to watch. It's the perfect movie to watch after
Kingsman
because of how it keeps that films level of fun while doing it's own thing.
Red
The third movie of the marathon is the 2010, action, comedy, and crime Spy thriller titled Bruce Willis, Helen Mirren, Morgan Freeman, John Malkovich, Mary Louise Parker, and Karl Urban.
Red
centers it's plot around a former black-ops agent named Frank Cross, whose peaceful life is threatened by a high-tech assassin. He's faced with no other alternative but to reassemble his old team in a final effort to survive and uncover his enemies. Much like
Kingsman, Red
contains both wit and style as it utilizes it's talented cast to make for a goofball time. Based off a DC comics strip
, Red
is directed to feel like a cartoon style story that includes mayhem with a talented thespian cast. While the potential of the film feels a tad below expectations given it's heavyweight cast, it is the actors who keep the story entertaining and engaging for audiences.
Red
is essentially the Aged Team as references to age and retirement are made with the film showcasing the character's utilizing firepower throughout the story.
Red
is a light-hearted action, comedy that succeeds as being such although given the film's talent attached to it, one expects the script to be slightly stronger given the expectations.
Spy
The fourth movie of the marathon is
Bridesmaids
and
Ghostbusters
2016 directors action, comedy titled
Spy
starring Melissa McCarthy, Jude Law, Jason Statham, and Rose Byrne. The story centers around McCarthy's character playing a desk-bound CIA analyst vowing to go undercover in order to infiltrate the world of a deadly arms dealer, and ultimately prevent diabolical and global disaster. Much like
Red
and
Kingsman,
Spy
takes the Spy genre and makes it a fun experience for audiences. At first one would consider Jason Statham and Melissa McCarthy to be an unlikely comic duo, however both work surprisingly well together with Statham delivering monologues that generate huge laughs with audiences. Meant to spoof the James Bond series,
Spy
creates it's own timeline that's both funny to audiences while coming across as being a bit surprising given how well Melissa McCarthys character adjusts to the role of being a female heroine. Despite the film obviously meaning to be silly, it finds itself going back and forth in regards to the suspension of disbelief as it tries to be realistic while flirting with the
Naked Gun
style of humor. As a form of diversion for nearly two hours of entertainment,
Spy
delivers while making use of it's talented comedic cast. While one may not necessarily like Melissa McCarthy as an entertainer, this remains one of her more refined roles where she's more likeable than irritating to some audiences.
Red 2
The fifth movie of the marathon is
Red 2
once again starring Bruce Willis with Mary Louise Parker, John Malkovich, and Helen Mirren with Anthony Hopkins and Helen Mirren added to the cast.
Red 2
picks up where the first films story ended with Willis character once again being forced to come out of retirement and reassembles his old team of elite operatives for a global quest to track down a portable nuclear device. While
Red 2
doesn't exactly reach the heights of
Red
as it's missing some of the charm and originality of it's predecessor, it still manages to succeed as a strong sequel due to it's talented cast being put to good use again although one finds themselves missing Morgan Freeman and Karl urban this time around. Despite the sequels shortcomings, it still feels as if the main cast enjoys the roles they play in both movies, even if the sequel replaces some of the goofball humor of the first movie with over the top explosions.
Red 2
is an entertaining and worthy follow-up to the first movie that stays pretty consistent as far as storytelling goes making it a fun and exciting adventure. With the action being over the top, it fits as the perfect finale to a marathon of similar style of films, while standing on it's own as an action, comedy.
Red
and
Red 2
are made with the main purpose being to entertain it's audience with popcorn explosions and surprising laughs, especially from John Malkovich and Anthony Hopkins delivering completely goofy performances with plot twists in store for both characters.
Message
So what are these movies all trying to say as a whole when you put them together as one? The message says that the job of being a Spy can ultimately be both a fun and a dangerous one. Anyone can be a spy regardless of gender or occupation. The weather needs to be protected against forces that want to use it as a threat against civilization.
Red
and
Red 2
says that putting old bands back together and coming out of retirement doesn't mean that you're enslaved to that previous part of your past, it just means that you have unfinished business to attend to as well as being the best person qualified for the job. The youth are the future of humanity, and training them to become future spies to fight against corrupt forces only seems logical.
Kingsman: The Secret Service
says that technology can be used for good as well as evil, and that young spies are the future of the agency.
Avengers 1998
says that a man and a woman teaming up to stop evil forces seems like an ideal pairing, and that women shouldn't be deemed ineligible to complete the task based on gender.
Red's
message says that you can never be too old or too busy to help out an old friend.
Spy's
message says that size and gender ultimately don't limit a persons intelligence, skills, or value, therefore it shouldn't limit their potential.
Red 2's
message says that the skills required to protect the world from evil are ageless. With all the movies combined in tonight's lineup, the marathon ultimately says that spies can come in many different forms as well as their organizations, and anyone with determination and as good heart can become a spy, period.
Our characters for this evening: